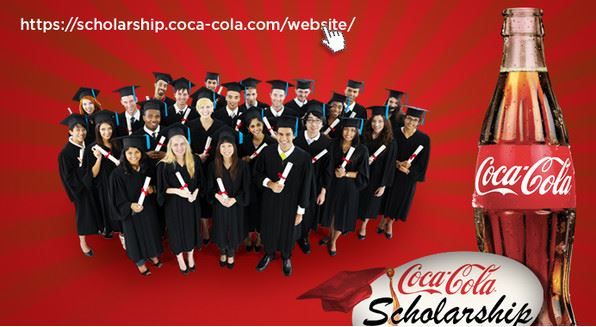 The mission of the Coca-Cola Scholars Foundation is to provide Coca Cola scholarship programs and lifelong enrichment opportunities. The foundation's goal is to support students thirst for knowledge and their desire to make a difference in the world. That's why the Coca Cola is now offering a highly competitive program called the "Coca-Cola Scholars Program Scholarship". High school seniors with a minimum 3.0 un-weighted GPA may apply for the award. When you become a Scholar, you become a part of a fantastic, influential network—150 Coca-Cola Scholars are selected each year to receive the $20,000 achievement-based scholarship.
The Coca-Cola Scholars Foundation is a tax-exempt 501(C)3 nonprofit organization whose vision is to develop a powerful network of community leaders, that'll leave a lasting legacy for generations to come. To celebrate their Centennial in 1986, The Coca-Cola Company and Coca-Cola bottlers came together to fund the Coca?Cola Scholars Foundation.
Eligibility:
To be eligible, the applicant must meet all the following criteria:
Applicants must be:
Current high school (or home-schooled) seniors attending school in the United States (or select DoD schools)
U.S. Citizens, U.S. Nationals, U.S. Permanent Residents, Refugees, Asylees, Cuban-Haitian Entrants, or Humanitarian Parolees
Anticipating completion of high school diploma at the time of application
Planning to pursue a degree at an accredited U.S. post-secondary institution
Carrying a minimum 3.00 GPA at the end of their junior year of high school
Applicants may not be:
Children or grandchildren of employees, officers or owners of Coca-Cola bottling companies, The Coca-Cola Company, Company divisions or subsidiaries.
DACA students
International students (with the exception of students at DoD schools)
High school graduates
Temporary residents
Which Coca Cola Scholarships Are Available?
There are three scholarships available each year through the CCSF program. Check them out below:
1. The Cocal Scholars Scholarship
This award is for seniors in high school with a GPA of at least 3.0. There are 150 scholars who are picked each year to receive a $20,000 award.
 2. The Coca Cola Community College Academic Team
This scholarship is distributed by Phi Theta Kappa, and it's given to students at two-year community colleges. There are 50 Gold scholarships priced at $1,500, 50 Silver scholarships at $1,250, and 50 Bronze scholarships at $1,000 given yearly.
3. The Coca Cola Leaders Of Promise
Students that currently attend two-year community colleges can apply for this award. There are 180 scholarships distributed per year by Phi Theta Kappa priced at $1,000.
How to Apply:
To apply for the highly competitive program, candidates can log in themselves through the given link: https://connect.coca-colascholars.org/scholarships/application-2017/2017-login
Supporting documents:
You will need a transcript to report the course level and grades that you have received since your freshman year in high school.
A school profile is needed to answer several questions about your school such as the number of AP, IB, and Honors classes your school provides, and the number of community service hours required for graduation.
The name, email address and phone number of your guidance counselor and principal.
A list of school and non-school related clubs and organizations in which you have participated since your freshman year and any corresponding leadership positions.
A list of honors and awards that you received when participating in school and non-school related clubs and organizations and the level of each award (Local, State, Regional or National) since your freshman year.
A list of your volunteer organizations with which you have served and the number of hours served with each and any awards and honors that you have received for your participation since freshman year.
Financial Aid and Award Money:
The 150 Coca-Cola Scholars will all be awarded $20,000 in scholarship funds.
They're glad you're exploring the Coca-Cola Scholars Program for college funding! Each year they award $3 million in scholarships to talented students across the United States.
In addition to using funds for tuition at an accredited college or university, Scholars may also use their funds for other educational expenses as specified by the Foundation, such as on-campus housing, for a computer, or textbooks.
The Benefits Of Becoming A Coca Cola Scholarship Award Winner
Believe it or not, there's so much more to winning a Coca Cola scholarship than getting money for your education. The Scholars Foundation are invested in the lives of recipients, even after graduation. They frequently invite scholars to various receptions around the country and to the Leadership Summit to fellowship with other winners and the alumni.
The vision of the Coca Cola Foundation is to create a network of people inspired by Coca Cola to help change the world. When you're chosen for a scholarship, you become apart of an impactful community of leaders.
Coca Cola Scholarship Requirements
The Coca Cola Scholarship is an achievement based award, and it's not a minority based scholarship. All applicants are evaluated by their academics, leadership, and other services. The company asks for ethnicity and income information, but it's only for reporting purposes.
The chosen Coca Cola Scholars are smart students who perform well academically and are involved in school activities. The prospects for the scholarship are driven, passionate, and dedicated to improving their communities.
Link for More Information:
http://www.coca-colascholarsfoundation.org/apply/
Contact Information:
The candidate may contact Scholarship America at 1-800-537-4180 for information about scholarship opportunities through the Goizueta Scholars Fund.
Final Thoughts On The Coca Cola Scholarship
The great thing about the Coca Cola scholarship is that it comes from a reputable company that you can count on. There are tons of awards available and there aren't any strict guidelines for applying. Not to mention, the perks that come along with the scholarship make even more worth it. College is costly, and it's safe to say that any additional money is helpful. So, if you're looking for additional aid to help fund your educational expenses, this is a perfect choice.